Bob Gillibrand Talks about the 1963 british expedition to the Berger
Bob Speaks about Alan Clegg: click arrow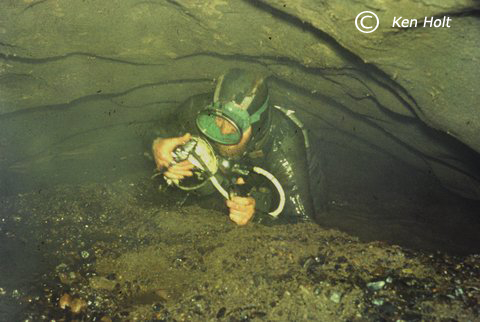 Bob emerging from Ireby Fell Cavern downstream sump 1964
Photo: Ken Holt
Bob started serious caving in the mid nineteen fifties around 1955/56 when he joined the NSG. Prior to that, he hung around with various groups of cavers from a variety of clubs in the Lancashire area. As an active member of the NSG he did a lot of work in Ingleborough cave with Bob Leakey. He spent much time at a continuing dig in Low Douk Cave, which was eventually passed by the Northern Pennine Club.
Towards the end of the fifties he was asked by his friend Alan Clegg to join Burnley Caving Club. Working together with Alan, one of the club stalwarts, they did a lot of caving and they decided that the way forward was to dive a number of the unexplored sumps in the Northern Pennines. In the early sixties, while cave diving was well established in the Mendips, it was in its infancy up north. Along with people like Mike Boon, Bob Jarman, Gordon Nolan and Pete Livesey, Bob and Alan formed a northern branch of the Cave Diving Group. Ken Pearce and Bob Leakey were also involved.
Bob Gillibrand Talks about the 1963 british expedition to the Berger
Before this, Bob and Alan Clegg along with others had found and dived in Langstroth Cave Upper Wharfedale. Through diving they extended the cave but were stopped at the foot of a 45 foot aven. Due to the combined efforts of divers from the Happy Wanderers and Pete Livesey, Pete eventually climbed the aven to enter what became Langstroth Pot.
In 1963 Bob was lucky enough to get on the British Berger expedition which was successful in breaking the then, world depth record for a cave system.
Early in 1964 Mike Boon and Bob passed the sump in Ireby Fell Cavern to discover 1600 feet of cave passage. Shortly after this Bob's great friend Alan died while diving in Lancaster Hole.
After Alan's death Bob gave up cave diving and somehow caving was not the same for him. However he still did some caving and to this day he has some lifelong friends through caving, he is a valued friend to many past members of the Wanderers.
Mick Melvin
.