MY FIRST CAVE DIVE by Jim Cunningham
If you walked into the H.W. Hostel at present you would be excused if you thought it was a Diving Club. ;Bottles, demand valves, flippers masks, snorkels, weight belts, wet suits and even a compressor, are scattered all around. However, this isn't surprising when you consider that eight members of the Club are also Cave Diving Group members, and another five have cave diving experience.


I am one of the five; I have been through Langstroth sumps (one and two!) I did not want to, but our C.D.G. members are very vain, and decided that they wanted photographs of themselves at the other side. I was the only available fool with a caving camera and diving experience. Of course they couldn't tell me, or I wouldn't have gone, so they carefully made arrangements to dive Dale Barn, suggesting that I take photographs in the new passages before the sump. This was, of course, to make me bring my camera, and also explain the presence of their diving gear.
On Saturday night they loaded all their diving equipment into Bolton Speleo Club's Land Rover, arranging to meet at Ingleton at 12.00.a.m. ;On the Sunday (I think- anyway they came at that time!) but told me to meet at 9.30.a.m. Sure enough I was there with the rest of the lads at 9.15.a.m., and everybody moaned about the Bolton lads letting us down. At 12.00.a.m. sharp they arrived, but everyone had decided that it was too late to do Dale Barn, though we still had time to take photographs in Langstroth...
THE HWCPC AND HOW I STARTED CAVING By John Cordingley
I've always considered myself incredibly lucky as a youngster to have come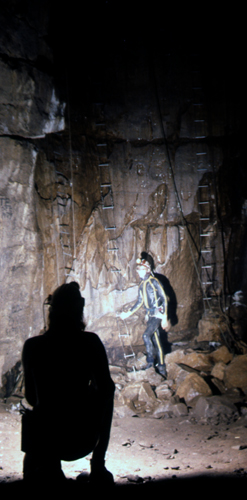 under the tutelage of Jim Cunningham, an experienced caver and Wanderers member at the time. Graham Proudlove and I were at school together where Jim was a physics teacher. We'd read a couple of caving books borrowed from the local library and decided that a life of adventure underground was for us. Our geography teacher, David Pack (a man of the finest calibre on whom I could write a book!) organised youth hostelling visits to the Dales and Jim was one of the staff who used to give up his free time to help out
Base of Bar Pot's big pitch.
Graham Proudlove by ladder, John Cordingley holding flash.
Photographer: Jim Cunningham